The Ara Pacis Augustae or simply Ara Pacis,  is an altar in Rome dedicated to Pax, the Roman goddess of Peace. The monument was commissioned by the Roman Senate on July 4, 13 BC to honor the return of Augustus to Rome. Still today, is one of the best known and most attractive monuments in Rome.
On the front of the enclosure to the left hand side, a panel survives which depicts the myth of the foundation of Rome: Romulus and Remus are shown being suckled by the wolf.
On the east side of the enclosure, to the left is a panel depicting Tellus, Mother Earth.
On the north and south sides, two dense crowds of people are shown, moving from left to right; amongst them priests, acolytes of the cult, magistrates, men, women and children, whose historical identity can only be constructed hypothetically.
Sunday, Sept. 1st 2019, 03:30 pm
Cost: € 25.00
Meeting point:  Lungotevere in Augusta, 00186, Main Entrance
MAXXI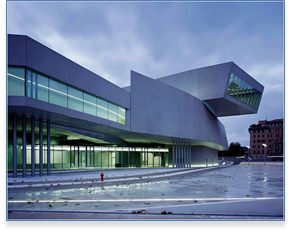 With the design of MAXXI, the recently deceased architect Zaha Hadid goes beyond the idea of the museum as building. The complexity of the volumes, the curvilinear walls, the variation and the interweaving of the proportions result in a very complex spatial and functional plot that visitors can cross by following different and always unexpected paths.
Sunday, Sept. 1st 2019, 03:10 pm
Cost: € 25.00
Meeting point: Via Guido Reni 4A, 00196, Roma, Main Entrance
Paul VI Audience Hall – Solar Roof
The Paul VI Audience Hall (Italian: Aula Paolo VI) also known as the Hall of the Pontifical Audiences is a building in Rome with a seating capacity of 6.300, designed in reinforced concrete by the Italian engineer Pier Luigi Nervi and completed in 1971.
On 25 May 2007, it was revealed that the roof of the building was to be covered with 2.400 photovoltaic panels, generating sufficient electricity to supply all the heating, cooling and lighting needs of the building throughout the year. The system was donated by SolarWorld, a German manufacturer, and valued at $1.5 million. It was officially placed into service on 26 November 2008, and was awarded the 2008 European Solar Prize in the category for "Solar architecture and urban development". From the roof it is possible to have a wonderful view over the square and the dome of St. Peter's Basilica.
For security reasons, the visit available only for two groups of 20 people each. The access to the roof is through a narrow and steep stair, so the visit is reserved to people in good health.
Thursday September 5th 2019 (Morning)
Meeting point: in front of Cancello Petriano, in Paolo VI street 31, 00193, Roma Italy, 00120 Città del Vaticano
Cost: € 25.00